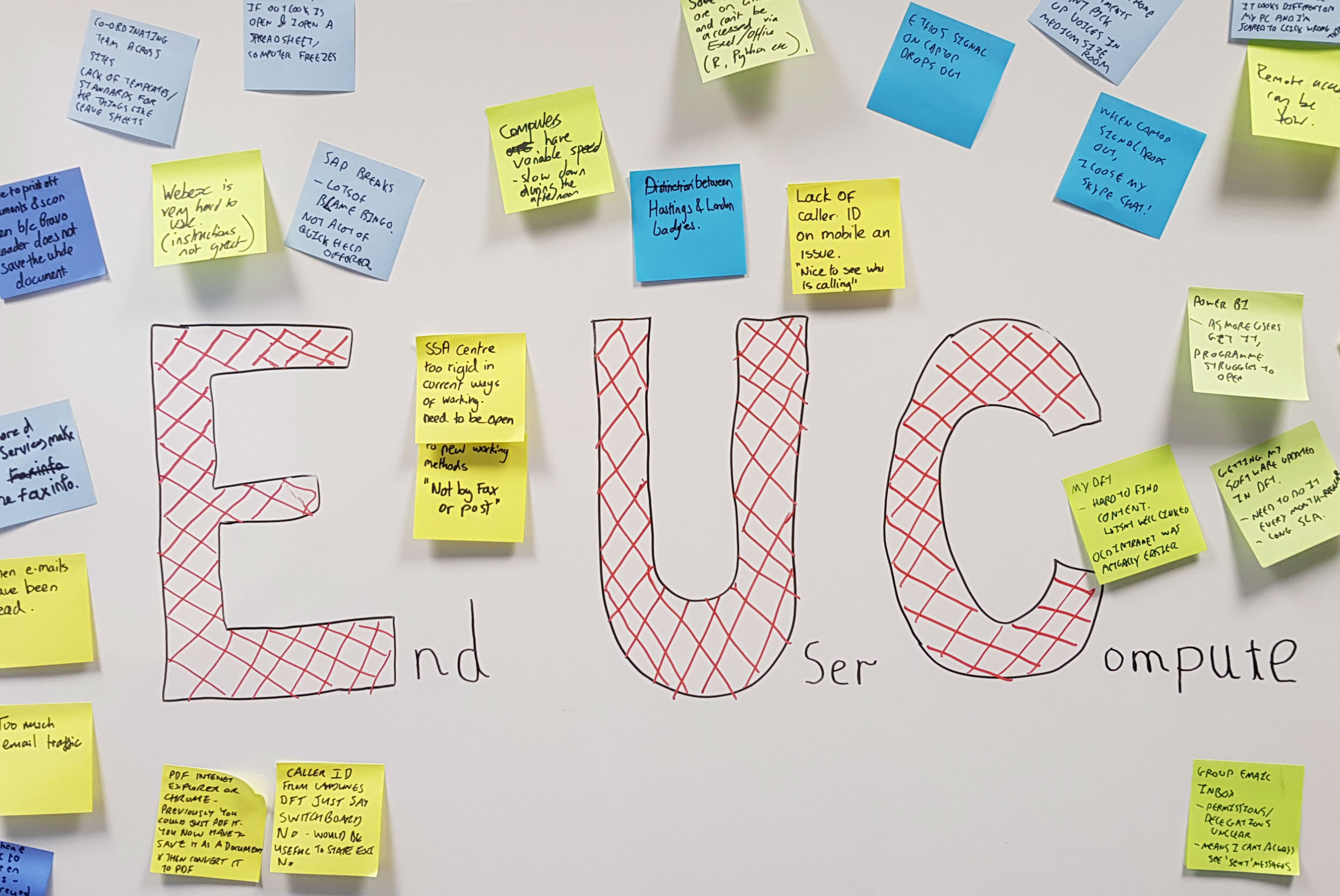 I'm Alan Rider, Delivery Manager for the Department for Transport End User Compute Discovery. End User Compute is a horrid bit of jargon. It is sometimes called Digital Workspace, which is a little clearer, but I prefer to think of it simply as 'technology we use to get things done'.
Whatever you call it, we faced a challenge in the Department for Transport. We wanted to offer our staff the best end user computing experience in government, but didn't want to rely on standard industry research to tell us what that offering should be.
There are many universal truths when it comes to technology. People want hardware and software that's reliable, flexible and easy to use - not something that you need a degree in computer science to understand. But we wanted to ask our colleagues what they needed to help them work in DfT, rather than assume they were the same as every other office worker the world over. So we ran a discovery.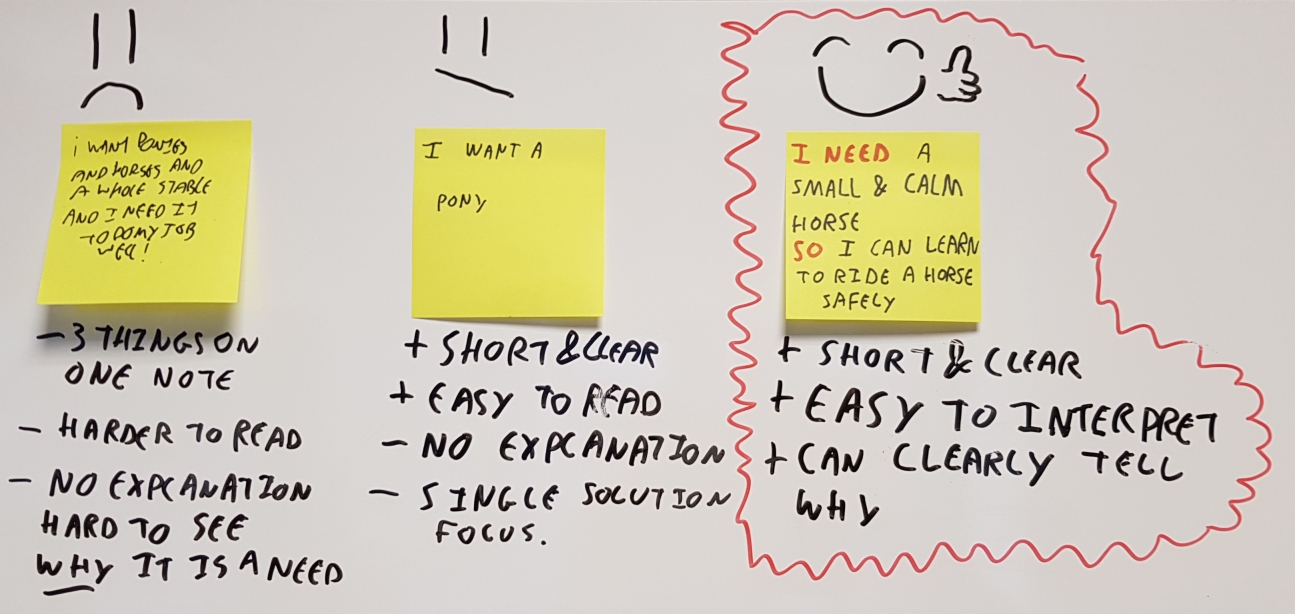 We needed to capture the full range of experiences our users had day-to day when using technology. That meant gaining an understanding of the needs of not only policy officials, but analysts and data scientists, accident investigators, security specialists, remote and home workers, those with accessibility needs, and even drivers from the Government Car Service. Over the 8 weeks of the discovery we spoke to over 350 people. Techniques included one-to-one interviews, workshops where we mapped user 'journeys', gatecrashing team meetings and drop-in sessions in the staff canteen. We visited colleagues based not only in London but also Hastings, Swansea, Farnborough and Southampton. We ran an intranet survey that received over 500 responses in the usually quiet time between Christmas and New Year. Yes, you could say that we left very few stones unturned!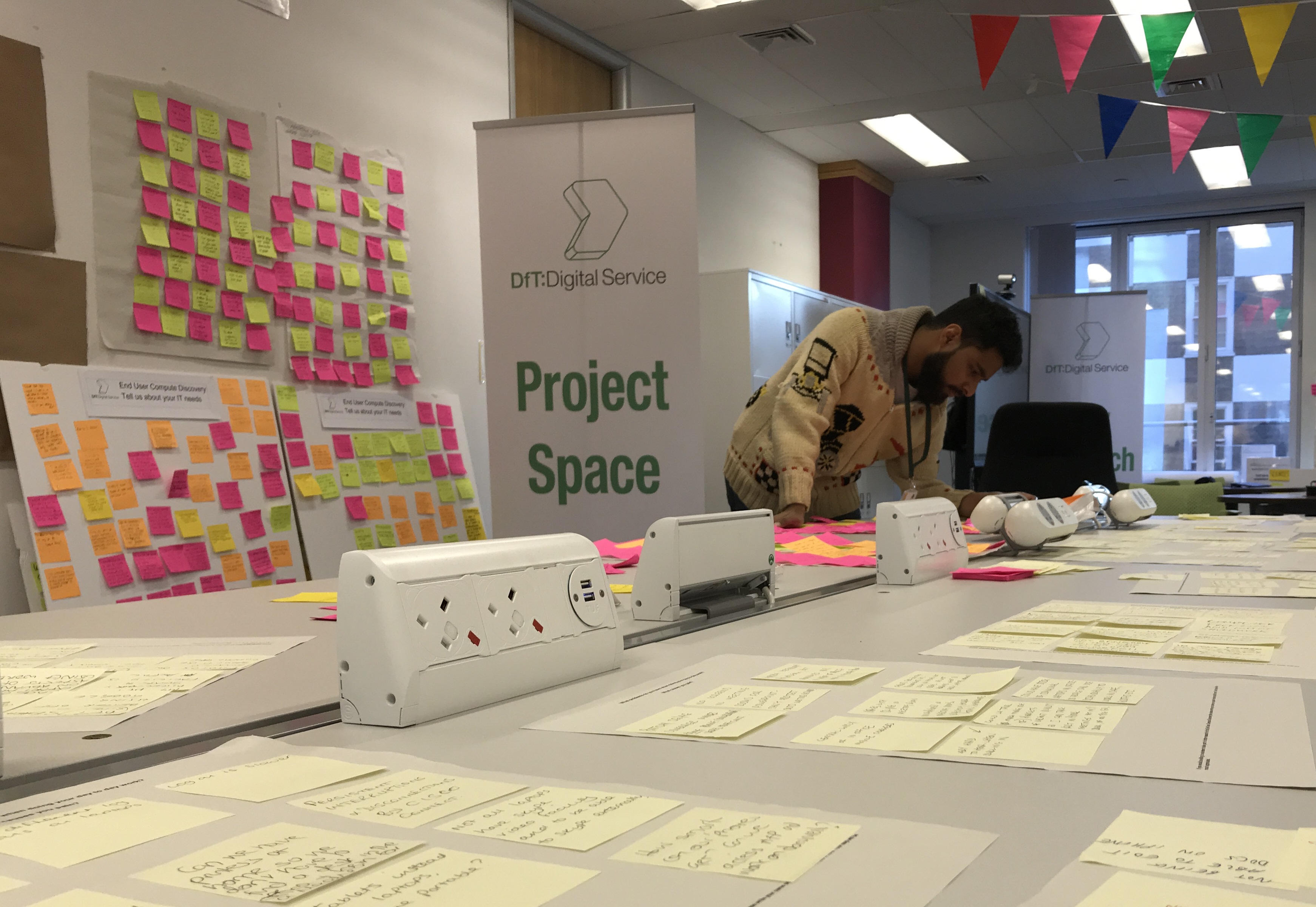 As you might expect, this generated a large amount of research data, which we processed in two separate analysis days where we worked through everything we had collected together as a team. That resulted in a set of themes based on users' experiences when carrying out tasks. These were:
collaboration - to be able to work with others easily and often
seamlessness - software and hardware that works well together and can share content without freezing or having to initiate a complex or fiddly process
portability - light and portable technology that lets people work on the move and not be tied to a desk
choice - to be able to choose the technology that best meets your individual needs
training - to be able to get the best out of technology, both hardware and software
support - support to be there when needed, both at corporate and local levels
awareness - to be aware of what technology is on offer
culture - to work in a culture that supports smart working behaviours, enabled through technology
We also developed 4 cross-cutting personas. We rejected the more traditional style of personas (mobile worker, home worker etc) often used to describe user types, as we felt these didn't reflect the reality of the experiences users were telling us about. Very few of our colleagues spend all their time working in the office, on the move, or at home. Most do a bit of everything, often in the same day. How much they do of each and their specific needs depends on their job. So we created our personas around the roles people actually had:
Percy the policy professional - People who identify with Percy tend to draw together lots of information and analysis from others and present it to the likes of Meetings Millie.
Saira the specialist (working in a satellite office) - Analysts, lawyers and software developers identify with this persona. They tend to require specialist software and are more deskbound than other colleagues.
Oliver the organiser - People like Oliver spend a great deal of time organising meetings, compiling papers from people like Percy and taking notes in meetings.
Meetings Millie - If you spend a lot of time in meetings, you are Millie. These users need access to information on the go and would love the technology that supports meetings to be simpler and more reliable.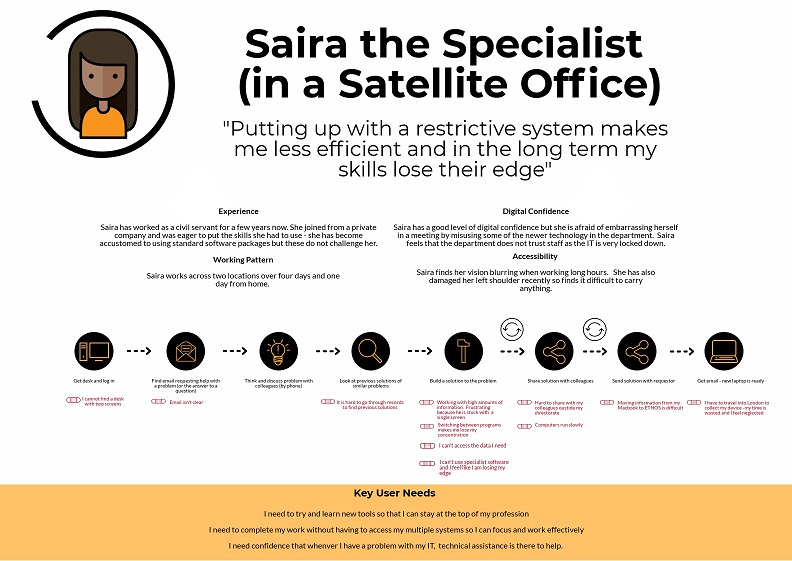 We then worked alongside our technical colleagues to develop over 75 user stories (which encapsulate user needs in a real situation) based on these personas. We also developed a series of 'experiments' to test in Alpha. These are similar to the concept of a prototype, but are things we can test with users in a real office environment. So, for example, where we have a set of user stories related to screens (we had lots of people saying that they needed dual screens on desks), we might run a set of experiments with different screen layouts to see how each worked. This might include dual screens, extended screens, docking stations to enable laptop screens to be used with a second screen, maybe even VR headsets!
Planning for the Alpha is now underway, so it is getting to a really exciting stage.
We have learned so much during this discovery, not only about what people need from technology, but also how to run a discovery for an internal service. We'll share what we have learned on that in subsequent blog.
Sign up here for alerts so you don't miss out.