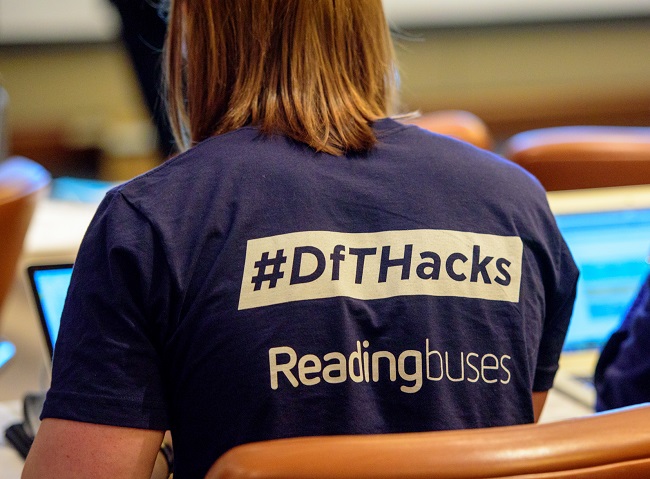 A hackathon is an event where problems and challenges are solved innovatively, using data and technology. Last month saw the launch of DfT Hacks, the Department for Transport's first ever hackathon with people from outside our organisation.
Over the course of 48 hours, over 50 software developers, graphic designers, data scientists and entrepreneurs came to DfT. Their task was to collaborate on problems facing government and the transport industry. In an extra twist, 5 people from around DfT also participated, collaborating on a specific challenge from DfT's Permanent Secretary around how we use our building, Great Minster House. These kinds of events are typically high energy affairs where the participants work through the night to develop their solutions. DfT Hacks was no exception!
Basement Hacks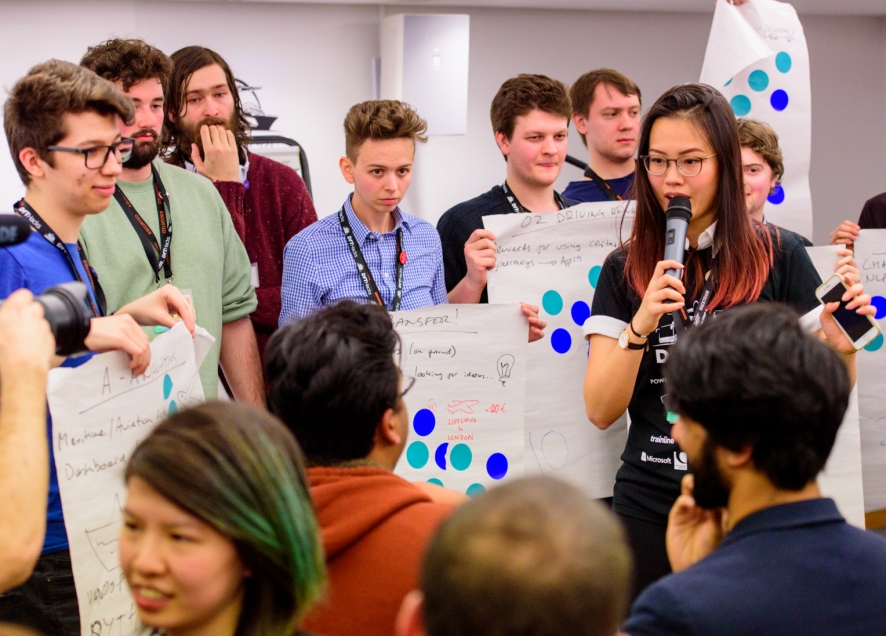 Things kicked off in our basement room, where DfT senior managers, our sponsors and partners set a number of challenges to the participants. From there, with help from on-hand mentors, they came up with ideas, formed teams and started to brainstorm solutions until late on Friday. We reconvened at the Trainline offices first thing on Saturday morning where the teams set to work building their apps, websites and technology.
Onboarding Solutions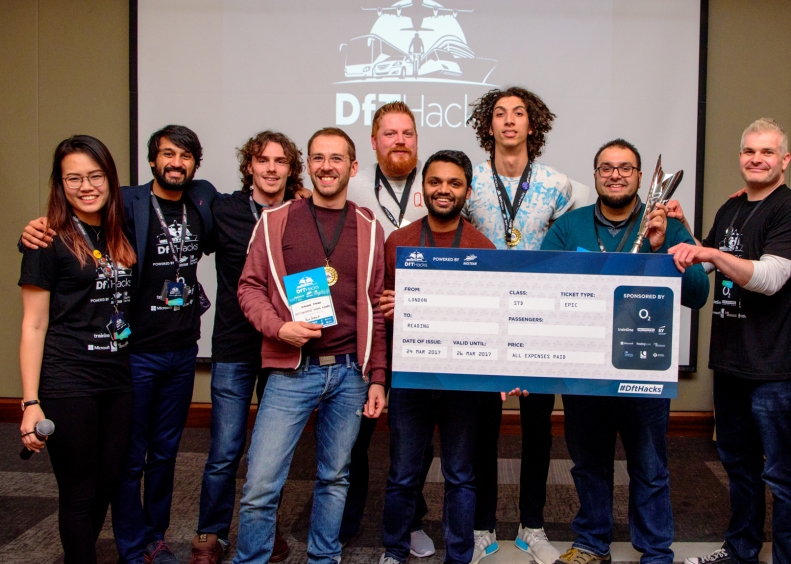 Our suppliers, Hack Partners, are known for running transport-related hackathons with a difference, with some of the event taking place on public transport, whilst travelling from one location to another. For this one, with a little help from Reading Buses, we transported the teams to the Reading Buses HQ where they worked through the night to hone their creations. All this culminated in the Sunday finals, where they each had 4 minutes to pitch their solutions to a panel of judges (from the participating organisations) who would pick an overall winner.
Here's the pick of the solutions.
Query: A National Travel Survey query tool  Overall winners Query produced an interactive query tool for National Travel Survey data. The tool allows you to find the data or information you need quickly, easily and in an engaging format.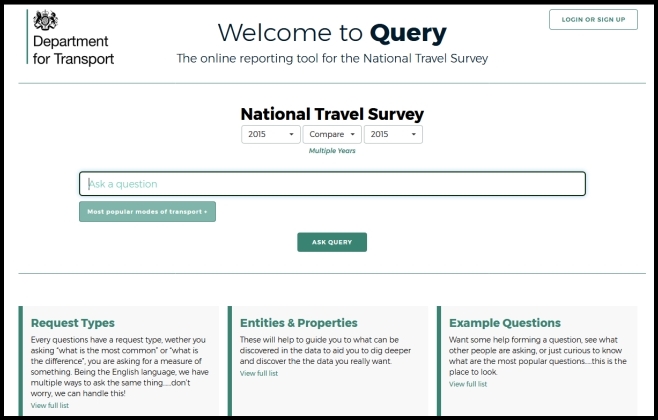 What really set Query apart was:
how beautiful and easy to use their interface was
the fact that they shared a link during their pitch for everyone to play along with
how they really did their homework on what it was that DfT wanted and what our user need was
Moreover there is scope for Query to be used, not just by DfT, but across government.
Deep Blue Sea – Maritime Analytics & Data Visualisation  Whilst we didn't have a runners up prize, we were sure to give a special mention to Deep Blue Sea. They took the data that DfT and MCA provided and built a platform to visualise and analyse it. The result was a breathtaking visualisation that brings data to life and also has many potential uses inside and outside of government. You can view a movie of their visualisation tool here. (Click 'Open' when prompted.)
BonD – Buses on Demand  Perhaps the most innovative hack, this was an app that allowed you to book a place on a bus to an event. Aimed at travellers who want to get to an event at low cost or without having to interchange, BonD allows them to book a place on a chartered bus. The people from Reading Buses really liked the idea and saw it as an 'Uber for buses' type application.
Transfare – Multi-Modal Travel App  In my opinion this was the best commercial prototype showcased. Transfare aims to show hidden costs associated with cheap fares. For example, a flight from one airport may be £30 cheaper than from another. But if it costs an additional £40 to get to the cheaper airport, then it's a false economy. Transfare had scope for taking account of other costs such as hotels, airport transfers and car hire. Several members of the judging panel agreed that they would use it if it existed!
Pedal Power – an app to encourage cycling  The most environmentally friendly prototype was Pedal Power, a cycle route planner highlighting distance, level of safety and scenery. These are three factors identified as being of importance to people deemed to be less likely to cycle. As with all the prototypes, it was a well presented and slick app and a great example of how DfT can harness technology to promote sustainable travel.
Streamflow – Passenger Flows with Mobile Phone Data  Streamflow looked at how non-personal mobile phone data could be used to give transport operators an extra 10-20 minutes' early warning in the event of disruption. This is a really exciting area for DfT and our analytical teams will be interested in exploring what other benefits this data could enable.
Team DfT – Honest Pod  Last, but by no means least, we have Honest Pod – the Team DfT solution. This uses hardware sensors, software and a cunning booking mechanism to direct users to available pods (workspaces) in our London building. Innovative and beautiful, not only did it not look out of place when compared to the 'professional' hackers' solutions, it was in my unbiased opinion one of the best solutions at the entire event. Who says government can't innovate?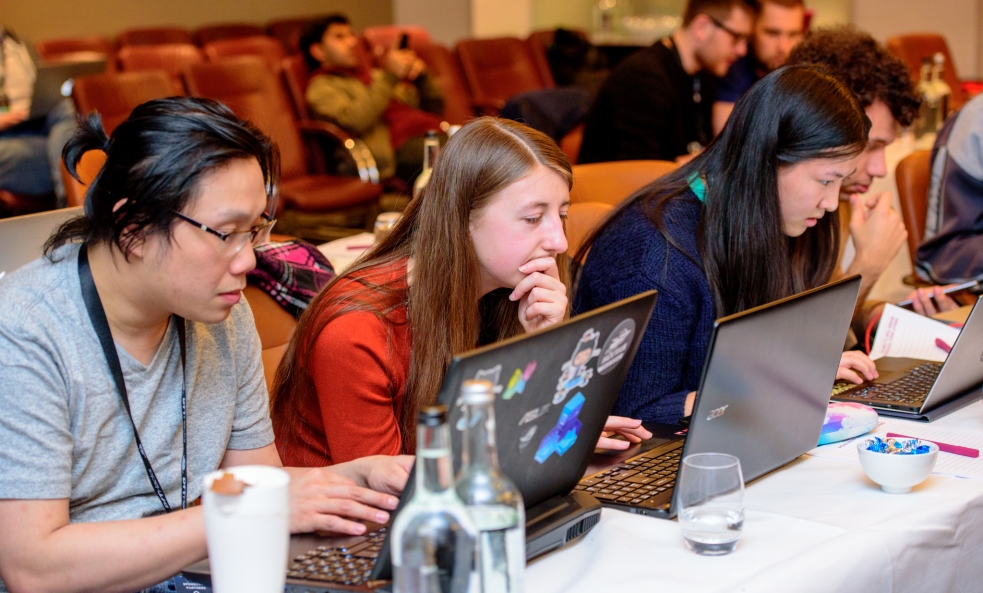 Hackitude gratitude
None of this would have been possible without the help and support of the Hack Partners: River, Damian, Sarah, Phoebe, Caz and Ian. Their commitment to innovation, knowledge of technology and general all round wizardry helped elevate DfT Hacks into the stratosphere and made it an extra special event. They'll be running their Hacktrain UK event this year and you can bet DfT will be heavily involved!
DfT Hacks was also supported by a fantastic set of sponsors and partners which included O2, Trainline, BAE Systems, EY, Reading Buses and Microsoft.
Next up for us is our Post-Hack event on May 4th. This is where the hackers come back to DfT and pitch their creations all over again to a panel of DfT judges who will pick the best one. They'll then see what can be taken forward, beyond the prototyping stage. If you would like to see the outcomes of the hackathon at the Post-Hack event, you can RSVP on the following link: posthack.dfthacks.com
Interested in taking part in a future DfT hack event? Drop us a line at DiscoverDigital@dft.gsi.gov.uk  For email alerts when new posts are published, please subscribe to this blog.