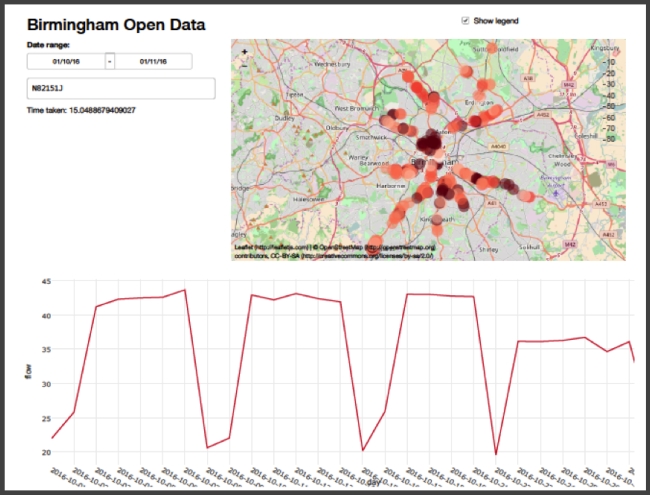 One of the major challenges for reducing congestion and improving journey information is the sharing and use of road-related data between different organisations. Last month I visited the Department for Transport to give a talk on November's Birmingham Highways Data Challenge (#brumdatahack). This event demonstrated that getting the right people together in a room with the right roads datasets can be an effective way to generate innovative solutions to this challenge.
Prioritising and opening up datasets for sharing
Transport for West Midlands, Birmingham City Council and HS2 set the challenge for the hack: to prioritise which datasets to open up or share in order to enable better journey planning and co-ordination of transport projects around the West Midlands.
This is important because the next 5 to 10 years will see the construction of HS2 as well as other major improvements to the strategic and local road networks across the region.
How these programmes will be integrated is already being tackled through regular engagement between Highways England, Transport for West Midlands, HS2 and the local traffic authorities, such as Birmingham City Council which make up the West Midlands area. And the scale of investment and activity will ultimately create a fantastic boost for the region. But in the shorter term there is potential for travel disruption and congestion affecting personal and freight use of the region's road network.
Opening up and sharing data more effectively between key organisations, particularly Highways England and local highways authorities, is crucial to keeping the city and region moving freely. Now more than ever it's imperative we explore the opportunities to give people accurate information on the things likely to impact their journeys so they can make informed choices about the best way to travel during this time.
We started by identifying the datasets already available from key organisations, and making them accessible for #brumdatahack here: http://deft153.com/birmingham-highways-data-challenge-2016/datasets/
Prototype solutions created
Compered by Nic Cary, Head of Data Policy at the Department for Transport, #brumdatahack enabled teams to form and create five prototype solutions:
Birmingham City Open Data Under Threat - A data visualisation of traffic flow in the Birmingham area and an online dashboard showing congestion spots.
HS2 Lorry Routes and Flows - Visualisation of routes and flows for HS2 construction traffic. These have been assessed within the HS2 Environmental Statement and include assumed 'worst case' construction traffic flows. (The routes are still subject to confirmation by contractors and planning approvals.)
Brake-Thru - An app using crowdsourced data to report incidents to motorists in real time
A Breath of Fresh Air - A tool for measuring local air quality via sensors worn by school pupils
Birmingham Bus Tracker - A dashboard for traffic managers and bus operators to monitor current route performance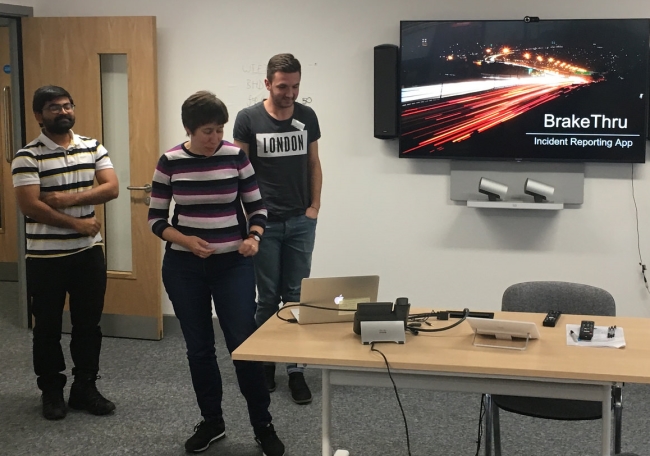 The relaxed atmosphere and 'unmeeting' style environment enabled some great collaborations. Not only did the participants benefit from being directly involved in the experience, their organisations did too. An example of this was the HS2 and OpenStreetMap collaboration to build the HS2 HGV network. It revealed that HS2's data was not geo-coded in the right way to work with OpenStreetMap. This inspired a change of data formats within HS2, which will benefit others wanting to work with OpenStreetMap in the future.
The winning team, comprising former UCL students Ellis Dodwell and Camilla Desideri, are continuing their work visualising UTMC traffic flow data from Birmingham City Council. Their work is driving a deeper understanding of historic traffic flows to help understand and predict future flows.
What we learned
Helping SMEs access and use available data is the key to successful collaboration. Projects like the Innovation Engine are already working on this, connecting SMEs in the greater Birmingham and Solihull area with partner organisations (Amey, West Midlands Combined Authority, and Birmingham City University) to work on specific challenges.
But the #brumdatahack taught us that more work is needed to make the datasets accessible, understandable and usable. Doing this won't just help SMEs. Easy access to road-related data held by different organisations is also beneficial to others, including local authorities, highways and transport service providers, journalists, and the public.
A data discovery centre
So our next challenge is to make the datasets from #brumdatahack more accessible. And we think one of the best ways to do that is through the use of visualisation tools.
Whether it's using maps, graphs, charts, or dashboards (or even LEGO!), these tools can help us open up these datasets and reveal their contents. This helps others better understand their value and possible utility, which can often be much greater than the original purpose for collecting the data.
And we'll be doing this live in a hands-on, purpose-built Data Discovery Centre at Traffex, Europe's largest highways and traffic exhibition April 4-6 2017 at the NEC in Birmingham.
At Traffex, we're bringing together a great range of tools and products at the cutting edge of data visualisation and analysis, and applying them to the #brumdatahack datasets.
Existing visualisation tools:
Open Street Map
Tableau
Open Data Soft
Yotta's Alloy and Horizons products
University-led development of new visualisation tools:
SETA Mobility project (Sheffield University with Birmingham City Council as UK city partner)
Birmingham in Real Time (BiRT) (Birmingham City University, with Innovation Engine support)
Data Driven Smart Decision Toolkit (Project DISC) (Birmingham City University with industry partners and Future Cities Catapult), yes they have a lego model of the area around the HS2 Curzon Terminal you can play with to model impacts of planning choices on air quality, congestion, health etc)
Machine learning and neural networks analysis (Aston University)
We might even find a few more datasets to visualise as well.
The wider context to all this is the UK-wide need to identify a common set of highways asset and inventory data that all local highways authorities have and can make available as a open data.
Although most of this data will have been captured for asset management purposes, opening it up enables more accurate travel information apps to be created. It also supports the move to evidence-based preventative maintenance, helping reduce costs and disruptions.
There remain challenges such as identifying sustainable business models and finding people with the necessary skills to make this happen. But we need to start making steps in this direction, and running the Data Discovery Centre at Traffex is an exciting part of the journey.