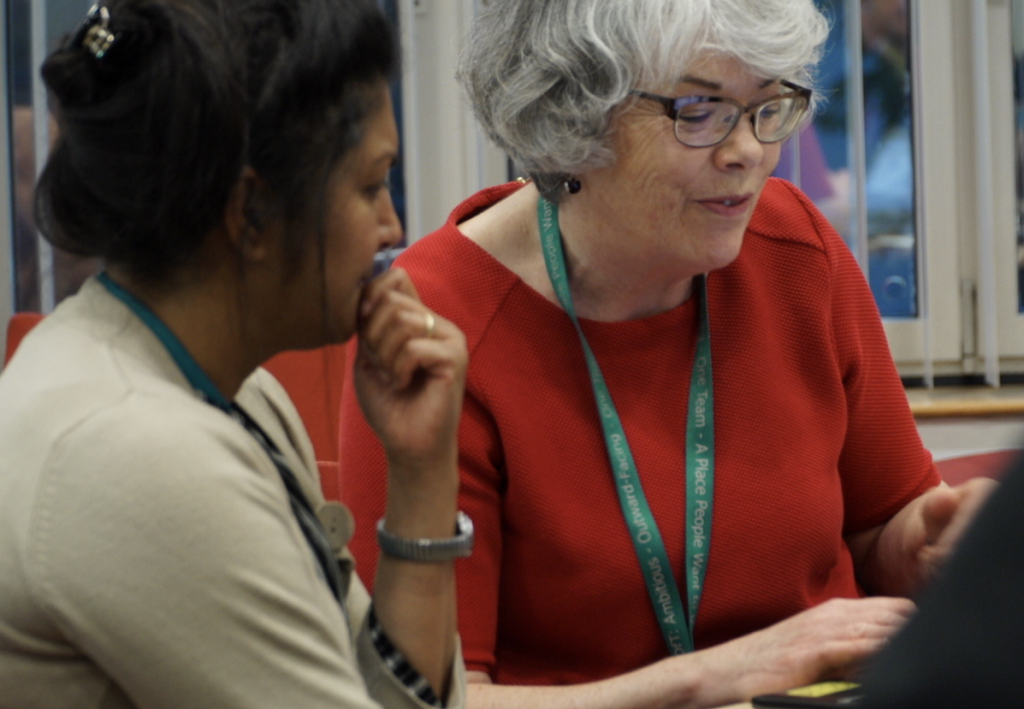 DfT's first ever digital speed learning event took place last month as part of our 'Learning At Work Week'.
Digital speed learning works like speed dating, but with a bit less awkwardness. You spend 5 minutes at each of several learning stations, hearing from a colleague about something digital they use in their work that might benefit you. Examples included the snipping tool, agile working and IFTT (If This Then That).
Raising the bar
This is part of the DfT Digital Adoption team's role of raising everyone's digital capability, wherever they currently sit on the scale from novice to expert. So it was important to have a range of tools and tips that would appeal to a broad cross section of colleagues.
It was my first time trying a speed learning approach, but I needn't have worried - it was a huge success, well attended and with loads of positive feedback from those who came. Here's what people said:
"Very useful and great speaking with knowledgeable and enthusiastic people"
"One of the best events I've attended at Learning at Work Week"
"Wow! Can we please have more of these?"
Appetite for instruction
As results from a recent DfT intranet poll show, we haven't lost our taste for classroom-based learning. And for good reason – it takes you away from your desk and allows you to fully focus on your learning objective. Yet it can be hard to fit whole days in the classroom around other commitments. Speed learning isn't a replacement for a longer training course, but for bite sized introductions to tools and tips that you can start using straight away, it definitely gets the job done.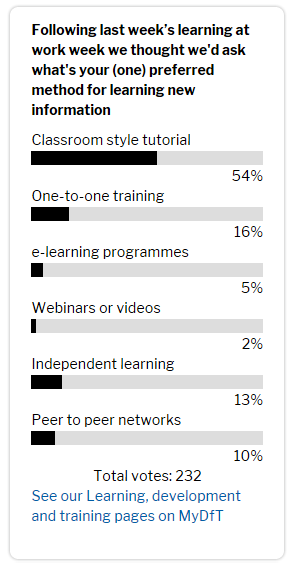 I started off by enlisting some volunteers who I knew had skills or know-how that could be of interest to others. To make it easier for them, I gave them suggestions of what tips and tools they could demonstrate. The format of how they demo-ed or talked about it was left up to them. Just before the session, we rearranged the boardroom style room into a more bazaar-like configuration of asymmetrically arranged tables, giving it an open and less formal appearance. One-to-one sessions need to feel welcoming, not like a series of interviews.
Although I had planned to facilitate, the room quickly filled up and the event took on its own momentum. Time keeping proved the biggest challenge. Sometimes queues developed as sessions ran over the 5 minute mark. One learning point for next time was to ensure that the room layout allows enough space for everyone to get around comfortably. But there was an energy and visible enthusiasm that you don't always get in traditional classroom learning environments.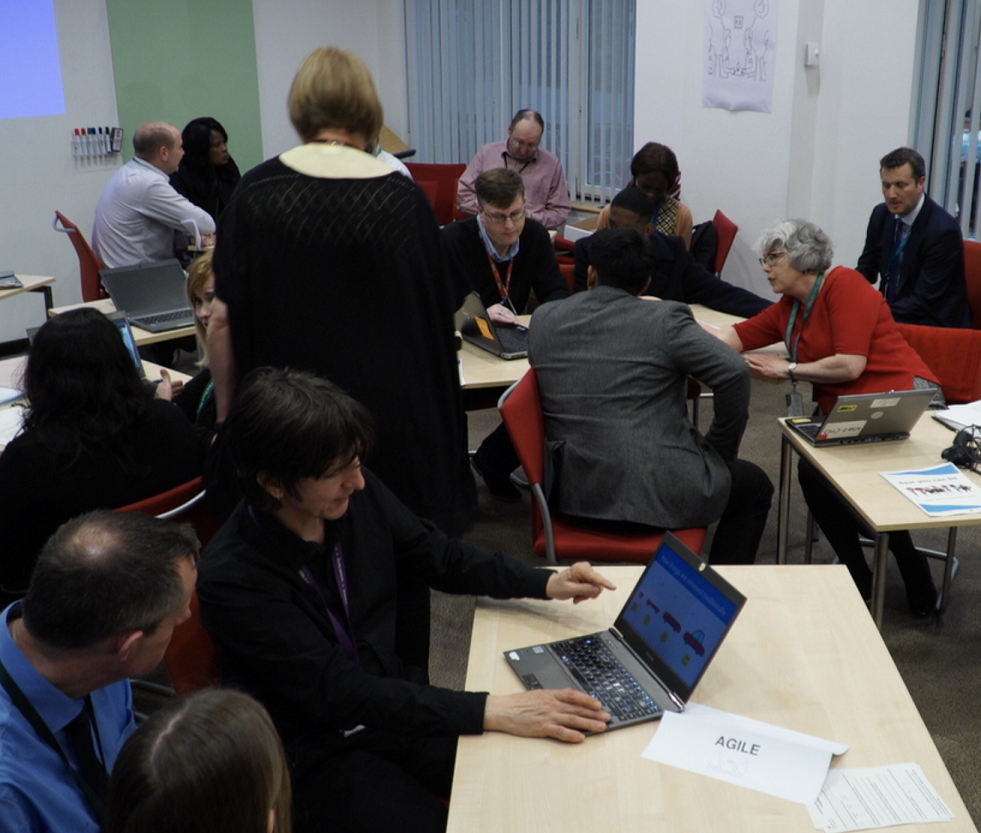 All change
Even though it's over in a flash, 5 minutes can be enough to get across something useful. As one trainer said:
"It was an interesting format which was perfect for sharing something new. It allowed just enough time to pique people's interest and suggest a few ways the things we were demonstrating might be useful. Then it's up to them to go and explore for themselves to get the real benefits."
Events like this have lots of fringe benefits beyond what you've come to learn about. Just like speed dating, they open up opportunities to hold conversations that otherwise may not have happened. They contribute to our aim of the department working together, as one team, by getting people together with colleagues from outside their immediate network to share their skills and knowledge.
Maybe you know of a useful technique or tool that could be shared in this way? Or you might even want to come in and show us how it works? If so, please leave a comment or contact us at discoverdigital@dft.gsi.gov.uk